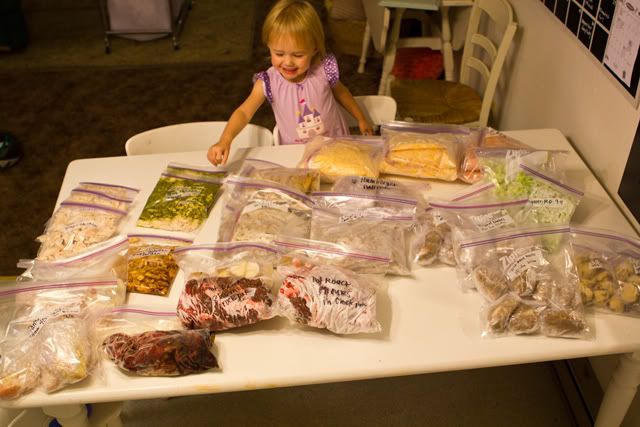 2 Pot Roasts ready for the slow cooker. Includes potatoes, onions, and carrots in the bag.
8 meals of cooked ground beef. Ready for Spaghetti, Lasagna, Shepherds Pie, Soup, etc.
4 meals of cooked and seasoned Taco meat. Ready for tacos or taco salad.
3 meals of cooked and shredded chicken. Ready for Hawaiian Hay stacks, Chicken noodle soup, Pasta dishes, etc.
2 meals of pesto chicken
1 Teriyaki Chicken meal
1 Teriyaki Beef meal
2 meals of Garlic Parmesan chicken breasts
3 bags of twice baked potatoes
2 bags of frozen chocolate chip cookie dough
3 bags of frozen chopped celery
4 bags of frozen shredded carrots. ( I love to add to any meal. My kids don't notice and they are getting more veggies! )
20 cups of shredded cheese
Frozen Pesto
I am SO happy to have a fully stocked and prepped freezer. This was a LOT of work but I think it's going to be so worth it. I got all my ideas from
"A Turtle's Life for Me.
" She has so many wonderful ideas about freezing meals. I also purchased
the book
she suggested and I can't wait to get it!