I thought I would share some photos of our recent bedroom updates. Here's Kamryn's room first. I found this beautiful picture frame at Ross. Cost: $4.99!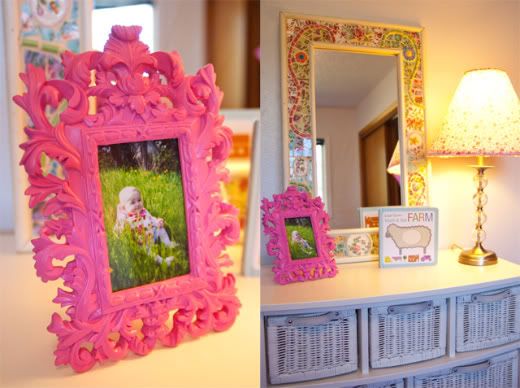 I also redid her lamp shade. JoAnn's has lamp shades that have a pattern on them. It was also sticky so I just had to press the fabric on. Then I hot glued this tiny edge on it. I really love it.
For Kamryn's birthday I made her a banner!
The only update for the girls room is, the number of carebears keeps multiplying. If I see one at a yard sale I ALWAYs pick it up. Has anyone seen a funshine carebear. It's the one thing Lauryn wants for her birthday and I can't seem to spot one! (I can find them online but everyone wants sooo much for them!)
Remember the pillow I made? I put it in my bedroom. I love it!
While I was at a yard sale I saw this vanity for FREE! I totally snatched it up! I really love it. I take more time for myself in the mornings and evenings.